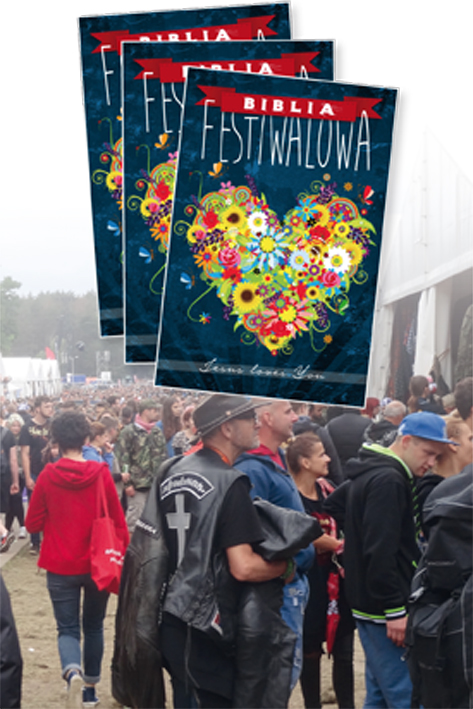 Since our visit to the Woodstock music festival in 2016, when we witnessed the forlornness of thousands of Polish and German teenagers, our hearts were touched and we felt the strong urge to spread God's Word among the festival visitors!
The New Age movement and other religions have a huge area on the festival grounds.

Hundreds of thousands of young people are looking for spirituality, exciting kicks and experiences.
We were reminded of the verse of the Bible: "When he saw the crowds, he had compassion for them, because they were harassed and helpless, like sheep without a shepherd." Matthew 9:36
In 2016 we started a small distribution campaign with 250 Metal Bibles in Polish on the festival grounds. Within 25 minutes they were out of stock.
For this year, we have planned 50,000 Festival Bibles for Woodstock 2017. The Word of God alone is the BREAD that can satisfy this hunger.
Since 2002, we regularly visit music festivals to bring the gospel to the people there. The Woodstock Festival is the largest of its kind and a real challenge.
Together with students from a Bible school from Germany, some staff members from Sweden and other countries, we will bring the Word of God to the young generation from Poland, Germany and other European countries at the Woodstock Festival.
We ask for your help and prayer for:
Good staff during the festival
Finance (about € 75,000.00) for the printing of 50,000 Festival Bibles
The logistics and the overnight camp
The protection of all workers
We would be happy if we could welcome you, all around
Europe to join us in this outreach. Come for some days or for the whole week. We will have
fantastic fellowship, worship, teaching and most of the hours of the day we will be moving
around on the festival ground in small teams, handing out Festival Bibles, talking and
praying with the very friendly warmhearted Polish and other festival visitors. We are planning
for about 100 workers from all over Europe.
This are the costs for the week:
Accommodation in classroom: 6 Euro/ day
Accommodation in your own tent: 3,50 Euro/day
Breakfast, Lunch, Supper 10 Euro/day
Please stand with us in prayer for this outreach! This is really a challenge!
If you are interested – please contact Roul Åkesson roul(a)bikerchurch-europe.com
Phone nr. +46-709 31 41 21
Donation note: Festival Bible Poland
Donation receipts will be issued at the beginning of next year. Please enter your full address in the field of application.
Bible for the Nations e.V., Aulkestraße 28, D - 48734 Reken
Phone:+49 (0) 2864 882907 Fax: +49 (0)2864 882909 Telephone (in SE): +46 (0) 40 672 6544
E-mail: info(a)bible-for-the-nations.com
Www.bible-for-the-nations.com
Bank details:
Postbank Dortmund
IBAN: DE57 4401 0046 0412 6204 62
SWIFT-BIC PBNKDEFF