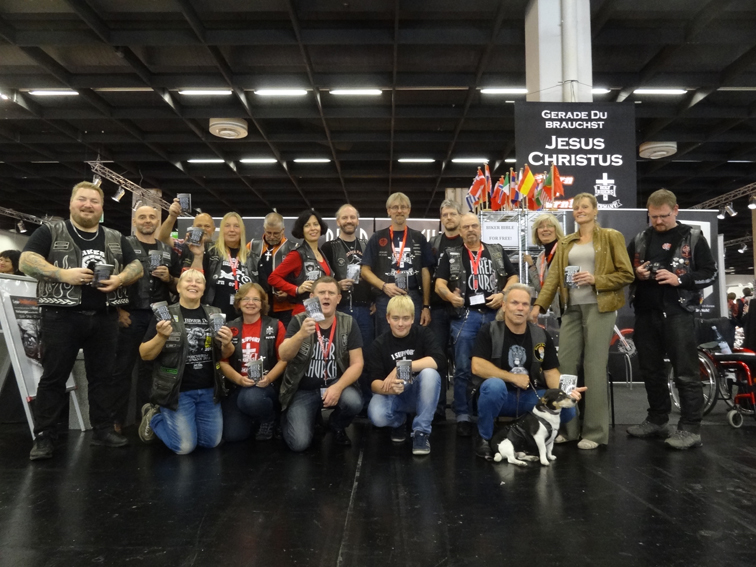 The outreach at INTERMOT in Cologne from October 1-5, 2014 was a great success.
Together with about 40 workers from different countries more than 17 000 Biker Bibles were given out. Most of the Biker Bibles were in German language, but we also gave away New Testaments in many other languages.
We are thankful for the great cooperation with Christian Motorcycle clubs in Europe.
The next INTERMOT will be held in 2016.
Der Bibeleinsatz auf der INTERMOT in Köln vom 1.-5. Oktober 2014 war ein großer Erfolg.
Mit ca. 40 Mitarbeitern aus verschiedenen Ländern haben wir mehr als 17 000 Biker Bibeln verteilt. Die meisten Bibeln in Deutsch, aber auch NT´s in vielen anderen Sprachen. Wir sind dankbar für die gute Zusammenarbeit mit den anderen europäischen Motorrad Clubs. Die nächste INTERMOT ist 2016.
Bibelsatsningen vid INTERMOT i Köln den 1-5 oktober 2014 blev en stark framgång.
Tillsammans med omkring 40 medarbetare från olika länder delades det ut mer än
17 000 Biker Biblar. Merparten av dem var tyska, men även NT i många andra språk delades ut under mässan. Vi är tacksamma för det goda samarbetet med kristna bikerklubbar runt om i Europa. Nästa INTERMOT blir 2016.